The construction of Wuhan Leishenshan Hospital has entered the stage of sprint decisive battle. Yesterday morning, Jiangsu Jingxue Energy Saving Technology Co., Ltd. urgently dispatched 1,200 square meters of external wall sandwich panels and sent them to Wuhan quickly to help the construction of Leishenshan Hospital (previously donated 100,000 yuan to the District Red Cross for epidemic prevention and control).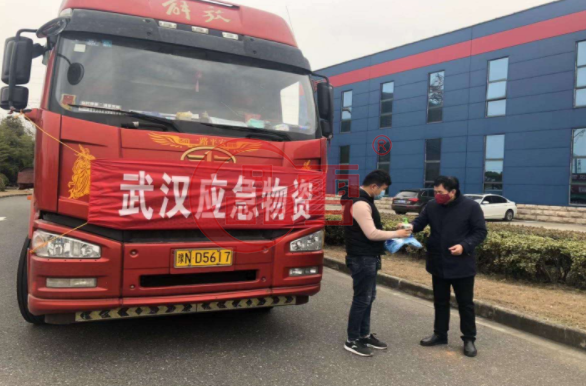 "While ensuring the delivery of the goods, you must pay attention to your own safety." Before departure, Jia Fuzhong, the chairman of the company, handed over the hand sanitizer, protective clothing, masks and other items to the driver and repeatedly warned.
It is understood that Jiangsu Jingxue Energy Saving Technology Co., Ltd., founded in 1993, is a company specializing in the research and development, design, production and sales of energy-saving and heat-insulating materials for cold storage enclosure systems (energy-saving heat insulation/insulation sandwich panels and supporting products). It is also a high-tech enterprise, and is also involved in the field of energy-saving thermal insulation materials for industrial building envelope systems.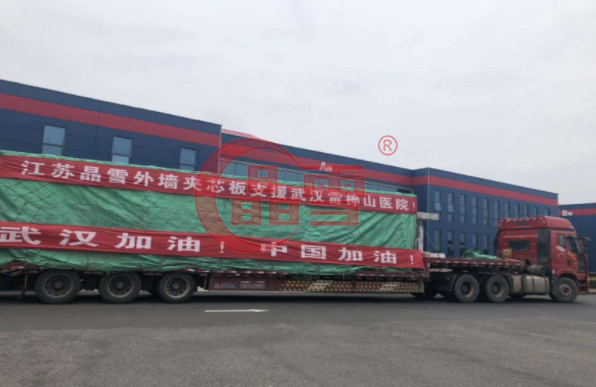 "On the evening of February 5th, we received a notice from the construction project headquarters of the Leishenshan Hospital of China Construction Third Engineering Bureau that we need to urgently transport the sandwich panels of the building's exterior walls to the construction site. We organized staff to stock up overnight and sent them to Wuhan on the morning of the 6th." Jia Fuzhong introduced that compared with ordinary wall building materials, the external wall sandwich panels independently developed and produced by Jingxue are energy-saving and environmentally friendly, and have thermal insulation properties. "The most important thing is the prefabricated assembly type, which is convenient and quick to install on site, which can greatly shorten the construction time and ensure that the project is delivered as soon as possible."
It is understood that as early as February 4, Jiangsu Jingxue received a letter of assistance from the Beijing Municipal Commission of Housing and Urban-Rural Development. On the afternoon of February 5, a batch of cold storage panels were sent to the reconstruction project site of Beijing Xiaotangshan Hospital. The two batches of donated sheet materials totaled more than 400,000 yuan. Prior to this, Jingxue also donated 100,000 yuan to the District Red Cross Society for epidemic prevention and control. "At present, there is no room for retreat. We will continue to support the other side's projects if necessary," Jia Fuzhong said.